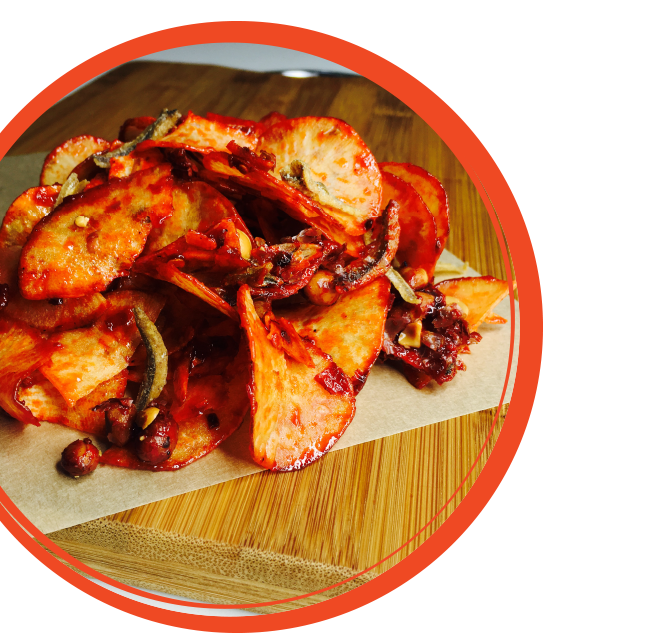 OUR SIGNATURE TASTE
SPICY, SWEET & TANGY, WITH HINT OF GARLIC
---
Our Signature Product, Chilli Tapioca Chips, the one that our patrons know by its authentic taste at heart. We still make them essentially the same way ever since we started 30 years ago. Comes with a kick that Chilli-Lovers crave, Shiok!
BATAK HOUSE BRAND
NOT ALL CHLLIES ARE CREATED EQUAL
---
It's never that simple with this Chilli Affair. After countless trials, we finally handcrafted the perfect Sambal Recipe that gives Chilli Tapioca Chips the heart & soul to taste truly sensational!
DELICIOUS EXTRA CRUNCH
WITH STIR-FRIED SAMBAL IKAN BILIS & NUTS
---
Max out the crunch with our Stir-fried Sambal Ikan Bilis (Anchovies) & Nuts. You can count on this to be one of the most unique Chilli Snacks in any Food Culture.
COOKING TECHNIQUE IS KEY
FOR THE BEST CHILLI TAPIOCA CHIPS
---
Our Recipe is specifically demanding. The folks behind this process commit themselves to cooking up the best tasting Chilli Tapioca Chips ever. We can cook up to 1000 kilos of it per day. Hot!
OUR CLASSIC PACK
THE ORIGINAL THAT STARTED IT ALL
---
Orange Stripes, Vintage Lemon, Batak House logo are all Original Marks of the packagings that contain these flaming hot munchies. Now lets gets you started on the right ones!